MONDAY, February 13, 2023 AT 6:00 PM • IN-PERSON/ELECTRONIC PUBLIC HEARING
Public Hearing -OCP Bylaw Amendment Bylaw No.2023-002 & Public Hearing – Zoning Bylaw Amendment:
(Z22-015) Bylaw No. 2023-003 – 12010 Lakeshore Dr S.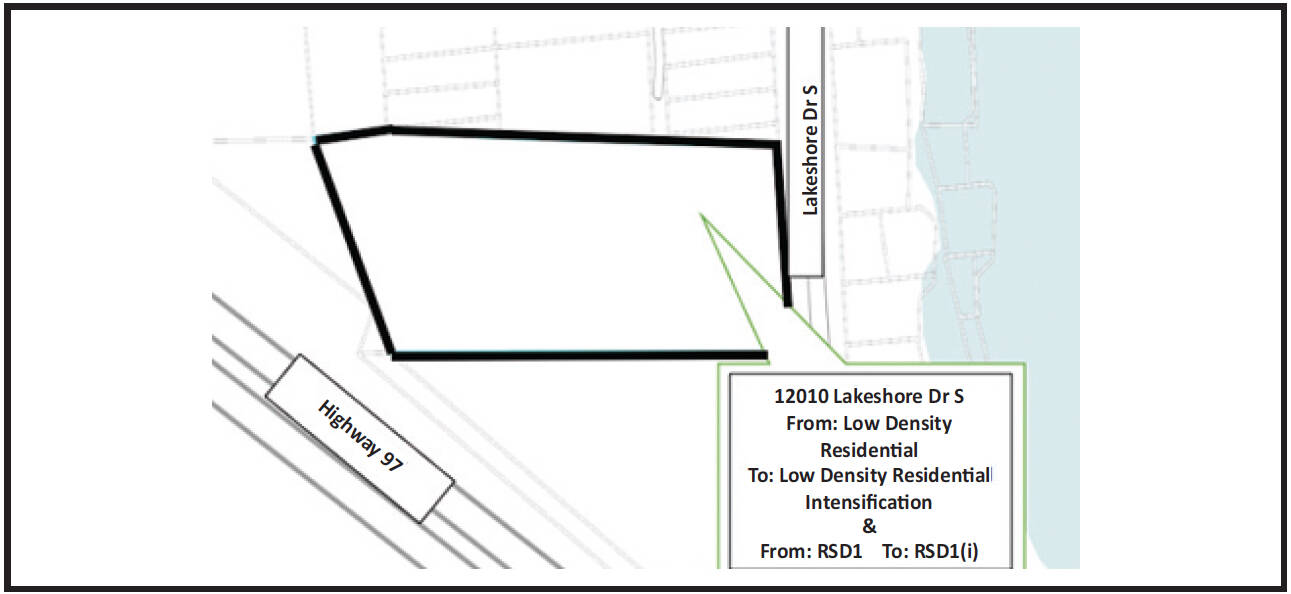 The intent of the proposed bylaw is to:
To change the OCP designation of the subject property from Low Density Residential to Low Density residential (Intensification)
To change the zoning designation of the subject property from RSD1 Residential Medium Lot to RSD1(i) Residential Single Detached Intensive Zone to facilitate a 4 Lot Subdivision
Get more information:
View copies of the proposed bylaws and relevant documents at Municipal Hall from 8:30 a.m. to 4:00 p.m. Monday through Friday, excluding holidays, or online with the Public Hearing agenda package at https://www.summerland.ca/your-city-hall/council-meetings
Opportunity to be heard or to present written submissions:
Any person who believes their interest in property may be affected by these proposals may speak to the matter at the Public Hearing by attending electronically (Zoom) or in-person (Municipal Hall Council Chambers at 13211 Henry Avenue) or provide written submission in advance of the Public Hearing.
We encourage members of the public to preregister on the speakers list in advance of the Public Hearing. To register to speak, email corporateofficer@summerland.ca and provide your name, civic address, attendance preference (Zoom/in-person) and cite the application number. After everyone from the speaker's list has been given opportunity for comment, the floor will be opened to those who did not register to speak.
Comments may be made through written correspondence up until 12:00 noon on Monday, February 13, 2023. Written comments can be sent by email to the Corporate Officer at corporateofficer@summerland.ca or by letter to District of Summerland Municipal Hall.