It's been a whirlwind weekend for Dallas Chelick, his wife Carmen and their three-month-old daughter, Beckett.
The Chelicks were at their home in the Bear Creek area on Thursday, Aug. 17, when an alert was issued for the area due to the encroaching McDougall Creek wildfire.
"We were just following along with the alert when all of a sudden we saw specific addresses that were put on an evacuation order and one of them was our place," said Dallas to Kelowna Capital News. "We started packing up and really had about an hour before the police were at the end of our driveway making sure that everyone was getting out."
With no real plan in place of where to go, the family briefly moved to Dallas' parent's cottage in the La Casa area. But, early Friday morning, that area was put on an evacuation order.
"We woke up to the sound of sirens, as the whole La Casa area was getting evacuated," Dallas said. "So we packed up and headed to Kamloops to get away from it all."
In Kamloops, Dallas had previously signed up to compete with some buddies in the 2023 Sunshine Open, an amateur golf tournament at the Kamloops Golf and Country Club.
"As soon as the fires happened, my buddies asked me if I was playing and I told them for sure no," explained Dallas. "But, when we ended up in Kamloops, my wife told me I should play, to get my mind off things because we were both obviously a wreck. At first, I felt selfish, that I don't need to play this but my wife said what else are we going to do while we are here?"
Dallas, who had never played the course, and had no real goals of placing in the tournament, promptly came out firing, to shoot a one under-71 on Saturday and par 72 on Sunday, to win it all.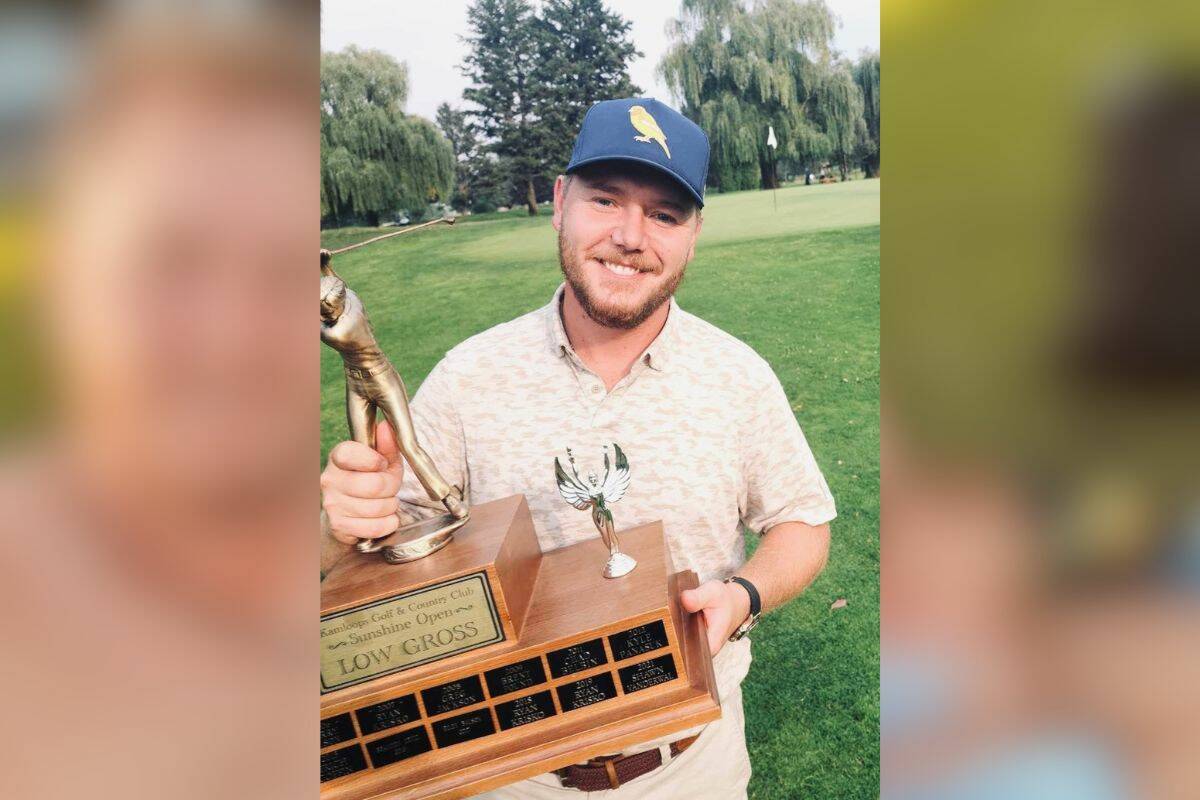 "I was hitting the ball really well, the course really fit my eye," he said. "It was pretty surreal, we had a really good gallery following us for the last six or seven holes and when I got to 18, there were a lot of whispers. It came right down to the final hole and I finished one under to win, while my two partners on the day both finished even, so it was incredibly close.
It was a fantastic way to get my mind off of what was happening," he said as Carmen, baby Beckett and their two cats were back in their AirBnB when he won.
When asked if his home back in West Kelowna was still standing, Dallas said it was "highly unlikely."
"Our house was at the centre of the fire maps for the entirety of the fires," he explained. "I think, if I am being realistic, the best case is that the house is still standing and we'll be able to salvage a lot of our belongings.
There's been no official update yet, roads are still closed but given where we live, which is a little acreage at the very back end of Bear Creek, I don't think there's been a ton of discussions around that area."
Through it all, Dallas, who runs a business in Kelowna, is seeing the positives.
"Ultimately, my family is so much more fortunate than a lot of other people just in regards to the number of people who reached out offering us accommodations and support. For us, it really isn't a tragedy even if we lose our house. We're all safe and our heart really goes out to the people that are in a tougher situation."
"I just hope that as many people can get the support they need as possible."
---
@B0B0Assman
bowen.assman@vernonmorningstar.com
Like us on Facebook and follow us on Twitter and subscribe to our daily and subscribe to our daily newsletter.