The 855 hectare Eagle Bluff wildfire in Osoyoos continues to burn out of control Sunday night with winds being the biggest concern overnight.
Air quality started to deteriorate in Osoyoos, with north winds pushing the smoke from the U.S. side into Osoyoos and as far as Summerland.
BC Wildfire information officer Shaelee Stearns said fire crews will be working on the blaze around the clock now.
Because of cooler temperatures on Sunday morning, the fire went from rank 4 overnight to Rank 2. But winds have since picked up, making the blaze more volatile in the evening, said Stearns.
The Regional District of Okanagan Similkameen will have another update on Monday at 1 p.m. on their Youtube channel. The Sunday update can be seen
Starting Monday morning, Keoghan Park in Okanagan Falls will be a 'staging site' or home base for the Incident Management Team and wildfire fighters working on the Eagle Bluff fire.
Equipment, trailers, and tents will be set up for "some very hot and tired firefighters," said Matt Taylor, regional district director for Okanagan Falls.
"These folks need their rest and don't need anyone having a 'lookey-loo.' If you do happen to see a firefighter– walking around town, in the grocery, wherever – say thanks. These folks are working hard to keep the rest of us safe. This is how we can help," added Taylor.
The Eagle Bluff wildfire is currently estimated to be 855 hectares in size and classified as Out of Control.
It first ignited in the U.S. on Saturday morning before crossing the border that evening (July 29). The fire is an estimated 2,000 hectares on the U.S. side.
An evacuation order remains for 732 properties that were put on evacuation Saturday night. Over 2,000 properties are on alert.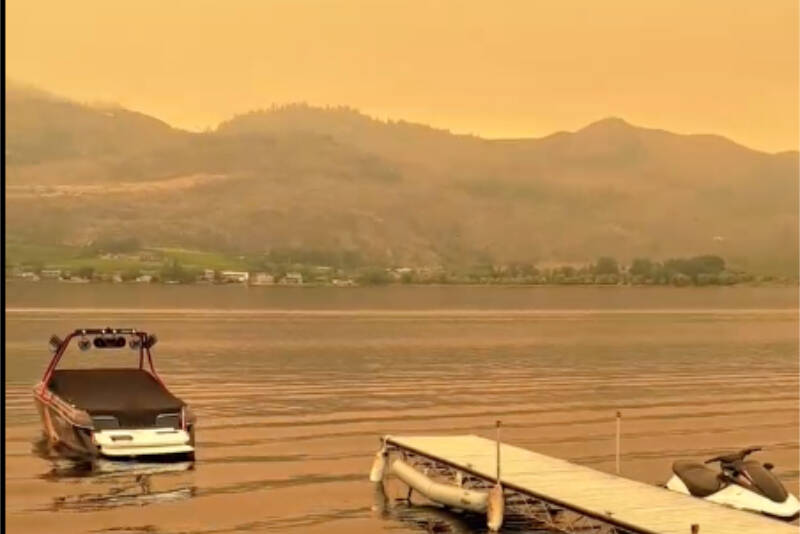 Approximately 130 families registered at the Oliver Reception Centre with more residents registering online, according to the Regional District of Okanagan Similkameen. The reception centre won't open on Monday.
By Sunday, around 50 fire personnel were working on the fire, along with 11 pieces of heavy equipment and structure protection. BCWS has requested an incident management team to come in to take over the wildfire of note.
Five airtankers attacked the fire all day on Sunday. Even though the Town of Osoyoos and BCWS asked boaters to decrease their activity on the lake to let the planes work, there were still a few ignoring the request.
"It puts the pilots and the boaters at risk," said Stearns.
Fire crews are working along the east flank of this fire with support from aerial resources. Crews were conducting small-scale hand ignitions along the eastern flank to tie into the machine guard that heavy equipment has been working on.
Structure protection crews were working in Kilpoola Sunday to assess and triage structure protection needs.
If you are in an area under Evacuation Alert, please make arrangements to relocate animals or livestock.
Contact ALERT (Animal Lifeline Emergency Response Team) for assistance: 250-809-7152.